I. Introduction to Soil Test Reports
Soil test reports play a crucial role in understanding the health and fertility of your soil. Whether you are a garde
Why are soil test reports important?
Soil test reports provide valuable insights into the composition of your soil, including its pH levels, nutrient content, organic matter percentage, and other vital factors. By analyzing these reports, you can make informed decisions about fertilization strategies and amendments necessary to create an ideal growing environment for your plants.
The components of a soil test report
A typical soil test report consists of several sections that provide detailed information about different aspects of your soil:
Identification Information: This section includes details such as the sample's location, date collected, and any specific instructions provided by the testing laboratory.
pH Levels: The pH level indicates whether your soil is acidic (<7), neutral (7), or alkaline (>7). Understanding pH is crucial because it affects nutrient availability to plants.
Nutrient Analysis: This part shows the concentration levels of key nutrients like nitrogen (N), phosphorus (P), potassium (K), calcium (Ca), magnesium (Mg), sulfur (S), and micronutrients like iron (Fe) and zinc (Zn).
Cation Exchange Capacity (CEC): CEC measures how well your soil retains nutrients. Soils with higher CEC have better nutrient-holding capacity.
Organic Matter Content: Organic matter contributes to soil fertility and improves its structure. The organic matter percentage reflects the amount of decayed plant and animal materials in your soil.
Additional Recommendations: Many soil test reports offer suggestions for amendments, fertilizers, and lime application based on the test results.
Interpreting the results
To interpret a soil test report accurately, it is crucial to understand the nutritional requirements of your specific plants or crops. Take note of any nutrient deficiencies or imbalances indicated in the report and compare them with recommended levels for optimal growth. Additionally, consider factors such as crop rotation, irrigation practices, and environmental conditions when developing an appropriate plan for amending your soil.
II. Importance of Interpreting Soil Test Reports for Agricultural Practices
Interpreting soil test reports is crucial for any farmer or agricultural practitioner looking to optimize their crop yields and maintain the health of their soil. These reports provide valuable insights into the composition and nutrient levels of the soil, enabling farmers to make informed decisions about fertilization, pH adjustment, and other necessary interventions.
The Benefits of Soil Testing
Soil testing offers a range of benefits that can significantly impact agricultural practices:
1. Nutrient Optimization: Soil test reports provide detailed information about the levels of essential nutrients present in the soil, such as nitrogen, phosphorus, potassium, and micronutrients. By understanding these nutrient levels accurately, farmers can apply fertilizers more efficiently based on specific crop requirements.
2. Cost-Effective Fertilizer Application: Interpreting soil test reports helps farmers avoid over-application or under-application of fertilizers. By applying fertilizers judiciously based on actual nutrient deficiencies identified in the report, farmers can reduce costs while maximizing crop productivity.
3. pH Adjustment: Soil pH plays a vital role in determining nutrient availability to plants. Soil test reports indicate whether the pH needs adjustment through lime application or sulfur addition. Maintaining optimal pH levels ensures plants can access essential nutrients effectively.
Making Informed Decisions
1. Crop Selection:
Different crops have varying nutritional requirements.
An accurate interpretation of soil test results allows farmers to select crops that are best suited for their specific soil conditions.
2. Fertilizer Recommendations:
Soil test reports provide precise fertilizer recommendations based on nutrient deficiencies identified in the soil.
Farmers can tailor their fertilizer application to meet the specific needs of their crops, promoting healthy growth and minimizing nutrient wastage.
3. Soil Health Monitoring:
Regular interpretation of soil test reports allows farmers to monitor changes in soil health over time.
This helps identify potential issues such as declining fertility levels or pH imbalances early on, enabling proactive measures to maintain optimal productivity.
The Bottom Line
III. Key Components of Soil Test Reports
Soil test reports are essential tools for understanding the characteristics and fertility of your soil. They provide valuable information that can help you make informed decisions about your gardening or farming practices. To fully comprehend the report and make the most of its insights, it is important to understand the key components within it.
1. Soil pH
The soil pH level is a crucial component mentioned in soil test reports. It measures the acidity or alkalinity of your soil on a scale from 0 to 14, with 7 being neutral. Understanding the pH level helps determine which plants will thrive in your soil as different plants require specific pH ranges.
2. Nutrient Levels
The nutrient levels section provides information about essential elements present in your soil, such as nitrogen (N), phosphorus (P), potassium (K), and other trace minerals necessary for plant growth. The report indicates both macro and micronutrient concentrations, allowing you to identify any deficiencies or excesses that may impact plant health.
3. Organic Matter Content
The organic matter content reflects the decomposition of plant material within your soil, contributing to its overall fertility and structure. This section provides insight into how well organic matter holds water, supplies nutrients, and supports beneficial microbial activity.
4. Cation Exchange Capacity (CEC)
Cation exchange capacity refers to how well a particular type of clay or organic matter can retain positively charged ions like calcium, magnesium, potassium, and others in the soil solution for plant uptake when needed.
5. Base Saturation
The base saturation percentage indicates how much space is occupied by basic cations like calcium (Ca), magnesium (Mg), and potassium (K) on the soil's exchange sites. This information gives insight into the soil's overall fertility and nutrient-holding capacity.
6. Recommendations
The recommendations section provides guidance on how to improve your soil based on its test results. It suggests specific actions, such as adding organic amendments, adjusting pH levels, or applying fertilizers, to optimize plant growth and ensure proper nutrient balance.
In conclusion, understanding the key components of a soil test report is crucial for making informed decisions about plant selection and maintaining optimal soil health for successful gardening or farming endeavors. By comprehending these components—soil pH, nutrient levels, organic matter content, cation exchange capacity (CEC), base saturation percentage—and following the recommendations provided in the report, you can enhance your agricultural practices while maximizing yields and sustainability.
IV. Understanding Soil pH Levels and Their Impact on Plant Growth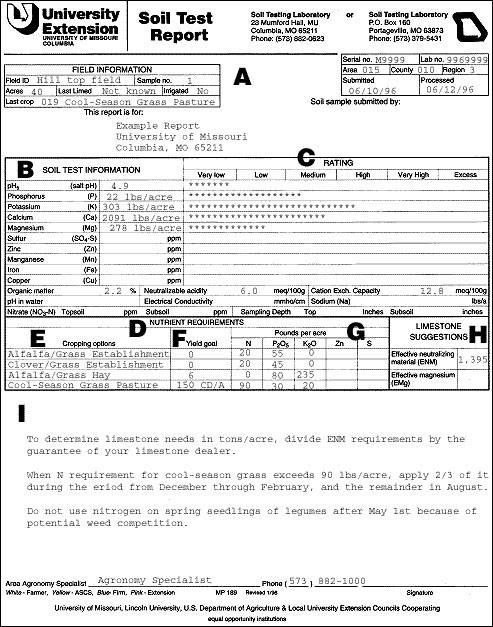 Soil pH levels play a crucial role in determining the health and productivity of plants. pH is a measure of how acidic or alkaline the soil is, ranging from 0 to 14, with 7 being neutral. Understanding soil pH levels can help gardeners and farmers make informed decisions about which plants to grow and how to optimize their growth conditions.
The Importance of pH for Plant Growth
The pH level of soil directly affects nutrient availability, microbial activity, and plant root development. Different plants have different preferences when it comes to soil acidity or alkalinity. Some plants thrive in neutral soils (pH 6-7), while others prefer acidic (pH <6) or alkaline (pH >7) conditions.
Acidic soils are commonly found in areas with high rainfall, while alkaline soils are more prevalent in arid regions. When the soil's natural pH does not match a plant's preference, it can lead to stunted growth, nutrient deficiencies, or even plant death.
Measuring Soil pH
To determine the soil's acidity or alkalinity level accurately, gardeners use a simple test called a soil test kit. These kits typically include litmus paper strips or digital meters that provide an instant reading of the soil's pH value.
Apart from using testing kits at home, professional laboratories also offer comprehensive analysis services where they assess other essential factors such as nutrient content and composition.
Impacts on Nutrient Availability
pH affects nutrient solubility in the soil. Some nutrients become less available when the soil is too acidic or too alkaline. For example, acidic soils tend to have higher levels of aluminum and manganese, which can be toxic to plants. On the other hand, alkaline soils may have reduced availability of essential nutrients like iron, zinc, and phosphorus.
By maintaining the ideal pH range for specific crops or plants, growers can ensure optimal nutrient uptake and prevent nutrient deficiencies or toxicities.
Amending Soil pH
If the soil's pH deviates from a plant's preferred range, amendments can be added to adjust it. For example, adding lime (calcium carbonate) increases soil pH in acidic conditions, while sulfur or peat moss helps lower pH in alkaline soils.
It is important to note that adjusting soil pH takes time and repeated applications. Regular monitoring through soil testing is crucial to maintain a stable environment for plant growth.
V. Analyzing Soil Nutrient Levels and Their Role in Crop Production
When it comes to producing healthy and abundant crops, understanding soil nutrient levels is crucial. Soil testing provides valuable information about the nutrient content of the soil, allowing farmers and gardeners to make informed decisions about fertilization and other necessary interventions. Let's delve into the process of analyzing soil nutrient levels and explore their role in crop production.
1. Collecting Soil Samples
The first step in analyzing soil nutrient levels is collecting representative soil samples from various areas of the field or garden you want to assess. Using a clean sampling tool, take multiple samples at a depth of 6-8 inches, en
2. Laboratory Analysis
Once you have your composite sample, it needs to be sent to a reputable laboratory for analysis. Professional labs use specialized equipment and techniques to measure various nutrients present in the soil accurately. The most commonly analyzed nutrients include nitrogen (N), phosphorus (P), potassium (K), calcium (Ca), magnesium (Mg), sulfur (S), iron (Fe), manganese (Mn), zinc(Zn) copper(Cu) boron(B) molybdenum(Mo).
3. Interpreting Test Results
The lab will provide you with a detailed report outlining the concentrations of different nutrients found in your soil sample. These reports often come with recommended ranges for optimal crop growth based on scientific research and local conditions specific to your area.
You'll typically find information such as organic matter content, pH level, cation exchange capacity (CEC), and nutrient levels in parts per million (ppm) or pounds per acre (lbs/acre). It's important to understand how to interpret these values and compare them against the recommended ranges to determine whether your soil is deficient, sufficient, or excessive in certain nutrients.
4. Adjusting Soil Nutrient Levels
Based on the soil test results, you can develop a targeted fertilization plan to address any nutrient deficiencies or imbalances. This may involve applying organic matter, such as compost or manure, adjusting the pH level with lime or sulfur amendments, and using specific fertilizers tailored to your crop's needs.
It's crucial not only to focus on macronutrients like nitrogen, phosphorus, and potassium but also consider micronutrients that play a vital role in plant health. Micronutrient deficiencies can often go unnoticed but may significantly impact crop productivity if left untreated.
Regular soil testing every 2-3 years helps monitor changes in nutrient levels over time and ensures you provide your crops with optimal conditions for growth.
With this understanding of analyzing soil nutrient levels and their role in crop production, you can make informed decisions about managing your land effectively. Remember that each crop has specific requirements regarding nutrients; therefore, customizing your approach will yield better results.
VI. Interpreting Soil Organic Matter Content and Its Influence on Soil Health
Soil organic matter (SOM) plays a vital role in determining soil health and fertility. It is the organic fraction of the soil that consists of decomposed plant and animal residues, microorganisms, and their byproducts. Understanding the significance of SOM content in your soil test report can provide valuable insights into its overall quality.
The Importance of Soil Organic Matter
Soil organic matter acts as a reservoir for essential nutrients, improves water-holding capacity, enhances soil structure, promotes beneficial microbial activity, and aids in nutrient cycling. It serves as a source of energy for microorganisms that break down complex organic compounds into simpler forms that are readily available to plants.
In addition to its role in nutrient availability, SOM also influences soil physical properties such as moisture retention and drainage. Soils with higher SOM content tend to have better water infiltration rates while maintaining sufficient moisture levels for plant growth during dry periods.
Interpreting Soil Test Results
Your soil test report will typically include information about the percentage or quantity of organic matter present in your soil sample. This value represents the amount of carbon-based material within a given mass or volume of soil.
A low organic matter content indicates poor fertility potential since it affects nutrient availability and water-holding capacity negatively. In contrast, soils with high levels of SOM generally exhibit improved fertility due to enhanced nutrient retention capabilities.
Influence on Soil Health
The presence or absence of adequate amounts of SOM directly impacts overall soil health. Healthy soils support thriving microbial populations crucial for various biological processes like nitrogen fixation and disease suppression.
SOM also contributes to long-term carbon sequestration by storing atmospheric carbon dioxide, mitigating climate change effects. Soils with higher organic matter content are more resilient to environmental stresses and tend to sustain better crop yields over time.
Therefore, it is essential to maintain and enhance soil organic matter levels through sustainable practices such as incorporating organic amendments, practicing crop rotation, reducing tillage intensity, and cover cropping.
To summarize, understanding the significance of soil organic matter content in your test report helps you assess the fertility potential and overall health of your soil. It influences nutrient availability, water-holding capacity, microbial activity, and long-term carbon storage. By implementing appropriate management strategies that promote SOM accumulation, you can improve soil quality and ensure optimal crop productivity.
VII. Assessing Soil Texture and Its Effects on Water Retention and Drainage
Assessing soil texture is an essential step in understanding the water retention and drainage properties of a soil. Soil texture refers to the relative proportions of sand, silt, and clay particles present in the soil. These three components determine how well water can infiltrate into the soil, how much it can retain, and how quickly it drains.
The Importance of Soil Texture
Soil texture plays a crucial role in determining a soil's ability to retain water. Sandy soils have larger particles with more space between them, allowing water to drain quickly through the soil profile. On the other hand, clay soils have smaller particles with less space between them, causing water to be held tightly within their structure.
Silt falls somewhere in between sandy and clay soils regarding particle size. Soils with high silt content tend to have moderate drainage capabilities but also retain some moisture for plant uptake.
Assessment Methods
Several methods can be used to assess soil texture accurately:
Sedimentation Method: This method involves mixing a known quantity of soil with water in a jar or cylinder and allowing it to settle over time. The different-sized particles will settle at different rates, resulting in distinct layers that indicate the proportion of sand, silt, and clay present.
Pipette Method: In this method, a small sample of sieved soil is mixed with chemicals that disperse clays before being placed into a pipette tube filled with distilled water or electrolyte solution. By measuring the sedimentation rate of each particle size fraction (sand/silt/clay), one can determine their percentages accurately.
Texture-by-Feel Method: This method involves taking a small amount of soil and wetting it to form a ball. By rubbing the soil between your fingers, you can assess its texture and estimate the proportion of sand, silt, and clay based on how the soil feels.
Effects on Water Retention and Drainage
The texture of a soil directly affects its water retention capacity and drainage characteristics. Sandy soils drain quickly due to their larger particle size, but they also have lower water-holding capacity. On the other hand, clay soils retain more water but tend to drain slowly due to their smaller particle size.
A balance between sand, silt, and clay particles is ideal for optimal plant growth. Loam soils are considered ideal because they have a balanced combination of all three components: good drainage from sand particles, moderate water-holding capacity from silt particles, and nutrient retention from clay particles.
To improve water retention in sandy soils or enhance drainage in heavy clay soils, amendments like organic matter can be added. Organic matter helps improve both water-holding capacity in sandy soils by increasing moisture retention ability and drainage in clayey soils by enhancing pore space for better air circulation.
Assessing soil texture is vital for understanding how well a soil retains moisture and drains excess water. By using methods such as sedimentation or pipette analysis or through tactile assessment using the texture-by-feel method, one can accurately determine the proportions of sand, silt, and clay present in a given sample. The resulting information allows for better management decisions regarding irrigation practices or amending soil properties to optimize plant growth conditions.
VIII. Interpreting Soil Test Recommendations for Fertilizer and Lime Application
When it comes to interpreting soil test recommendations for fertilizer and lime application, understanding the information provided is crucial for optimizing crop yield and maintaining healthy soil conditions. Let's delve into some key factors to consider when deciphering these recommendations.
Determining Nutrient Levels
The first step in interpreting soil test recommendations is assessing the nutrient levels indicated in the report. The results typically include measurements of essential macronutrients such as nitrogen, phosphorus, and potassium, as well as secondary macronutrients like calcium, magnesium, and sulfur. Additionally, micronutrients like iron, zinc, manganese, copper, boron may also be evaluated.
By comparing these nutrient levels with established optimal ranges for specific crops or plants you intend to cultivate on your land (which can be found in agricultural extension resources), you can identify any deficiencies or excesses that need attention.
Understanding Fertilizer Recommendations
The fertilizer recommendation section of the report provides guidance on which fertilizers should be applied based on existing nutrient levels. This section usually includes three numbers representing the ratio of nitrogen (N), phosphorus (P), and potassium (K) respectively.
For instance: a recommendation of 20-10-10 would mean applying a fertilizer containing 20% nitrogen by weight along with 10% each of phosphorus and potassium. These figures indicate the percentage of each element present in relation to total weight.
Lime Application Guidelines
Lime application plays a vital role in correcting soil pH imbalances. The soil test report will provide lime application guidelines based on current pH levels measured from your sample.
If your pH level is too acidic below optimum range, the recommendation will suggest the amount of lime necessary to raise the pH to a suitable level. Conversely, if your soil is too alkaline, recommendations might include applying elemental sulfur or other acidifying agents to lower pH.
Considering Crop-Specific Requirements
While interpreting soil test recommendations, it's important to consider crop-specific requirements. Different crops have distinct nutrient preferences and tolerances. Understanding these variations enables you to tailor fertilizer application and lime amendments accordingly.
Consulting local agricultural experts or extension services can provide valuable insights into specific crop requirements for your region.
IX. Common Challenges in Interpreting Soil Test Reports
John Bowen, an acclaimed author and garden enthusiast, hails from Kent, England, where his love for nature and gardening was nurtured. He holds a Bachelor's Degree in English Literature from the University of Oxford and a Master's Degree in Horticulture from the Royal Botanic Gardens, Kew. This unique blend of literary acumen and horticultural expertise makes his writing both informative and captivating. His work spans from fundamental gardening techniques to complex landscape designs, with a special focus on the intricate bond between man and nature. When he isn't writing or lecturing, John enjoys spending time in his own garden, illustrating the deep passion he has for his craft.