I. Introduction to DIY Pallet Compost Bins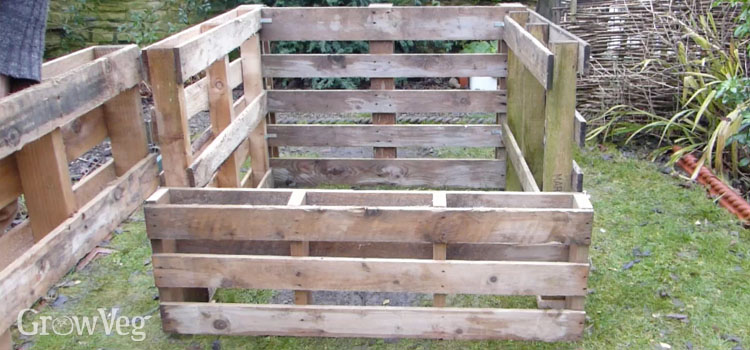 Welcome to the world of composting! If you are looking for an eco-friendly way to dispose of your kitchen scraps and yard waste while simultaneously creating nutrient-rich soil for your garden, then building a DIY pallet compost bin might just be the perfect solution for you.
Composting is a natural process that decomposes organic materials into a dark, crumbly substance called compost. This compost can be used as a fertilizer in your garden beds or potted plants, providing essential nutrients and improving soil structure.
Why Choose DIY Pallet Compost Bins?
One of the main advantages of using pallets as the primary material for building your compost bin is their accessibility. Pallets are often discarded by businesses and can be obtained free of charge or at minimal cost from local warehouses or distribution centers.
Pallets also offer excellent ventilation due to their slatted design, allowing air circulation throughout the pile. This helps prevent odor issues and promotes faster decomposition by facilitating the flow of oxygen, crucial for beneficial bacteria and other organisms responsible for breaking down organic matter.
The Benefits of Composting
Composting has numerous benefits beyond reducing waste sent to landfills. By diverting organic materials from trash cans, you not only help mitigate greenhouse gas emissions but also minimize landfill space usage.
In addition, adding homemade compost to your garden enriches soil health by enhancing its moisture-retaining capacity and promoting better drainage. The resulting nutrient-dense soil improves plant growth and reduces dependency on chemical fertilizers.
Gathering Your Materials
Before diving into construction, gather all necessary materials: wooden pallets (preferably heat-treated), screws or nails, wire mesh or chicken wire (to line the interior), a saw, drill, and measuring tape. It's also helpful to have gloves and protective eyewear for safety.
Ensure that the pallets you choose are clean and free from chemicals or contaminants. Opting for heat-treated pallets guarantees they are safe to use in your composting project.
Designing Your DIY Pallet Compost Bin
The simplest design involves using three pallets to create an open-faced box structure. This allows easy access for turning the compost pile as needed. However, if you prefer a more enclosed bin, additional pallets can be used to construct sides and a lid.
It's important to consider the location of your bin as well. Choose an area that receives adequate sunlight, is easily accessible for adding materials, and allows sufficient space around it for proper airflow.
II. Benefits of Using Pallets for Compost Bins
When it comes to composting, using pallets as the foundation for your compost bin can offer a range of benefits. Not only are pallets easily accessible and affordable, but they also provide excellent ventilation and drainage for your compost pile. Let's delve deeper into the advantages of utilizing pallets in your DIY compost bin:
1. Cost-effective Solution
Pallets are often discarded or sold at a low cost, making them an economical choice for constructing a compost bin. By repurposing these wooden platforms, you not only save money but also contribute to reducing waste.
2. Versatile Design Options
Pallets come in various sizes and shapes, allowing you to customize your compost bin according to your space limitations and preferences. Whether you have a small backyard or ample room, pallets can be arranged vertically or horizontally to create bins that suit your needs.
3. Enhanced Air Circulation
The gaps between the slats in pallets promote air circulation within the compost pile, crucial for its decomposition process. Proper airflow helps maintain optimal moisture levels while preventing foul odors by preventing anaerobic conditions from developing.
4. Efficient Drainage System
Pallets' open-slat design allows excess water to drain easily from the compost pile while retaining enough moisture for decomposition purposes. This drainage system prevents waterlogged conditions that may hinder microbial activity within the organic matter.
5. Durability and Longevity
Pallet wood is typically treated with chemicals that protect it against rotting and pests like termites or fungi infestation—ensuring the longevity of your DIY compost bin even when exposed to the elements.
6. Easy Assembly and Disassembly
Constructing a compost bin using pallets requires minimal effort and tools. The modular design of pallets allows for easy assembly, disassembly, or relocation, making maintenance and turning your compost pile a hassle-free task.
7. Eco-friendly Option
By repurposing pallets for your compost bin, you contribute to reducing waste sent to landfills while actively participating in sustainable practices. This eco-friendly choice adds an extra layer of environmental consciousness to your gardening routine.
III. Choosing the Right Pallets for Your Compost Bin
When it comes to building your own compost bin using pallets, choosing the right type of pallets is crucial for ensuring durability and effectiveness. Here are some factors to consider:
Pallet Material
The first thing you need to determine is the material of the pallets. While wooden pallets are commonly used for compost bins, not all types of wood are suitable. Avoid treated or painted pallets as they may contain chemicals that can leach into your compost and harm plants later on. Look for untreated hardwood or heat-treated (HT) softwood pallets, as these are safe options.
Pallet Size
The size of the pallets will depend on how big you want your compost bin to be. Standard-size wooden pallet dimensions range around 40 inches by 48 inches, but you can also find larger or smaller sizes depending on availability in your area. Consider how much waste you generate and how much space you have in your garden when deciding on the dimensions.
Pallet Condition
Inspect the condition of each individual pallet before using them for your compost bin construction. Look out for any signs of damage, such as rotting wood or broken planks, which could compromise its sturdiness over time. It's essential to choose sturdy and intact pallets that will withstand outdoor conditions and support the weight of a full compost pile.
Pallet Treatment History
If possible, try to find out about the history of each pallet before using it in your compost bin project. Pallets used to transport chemicals or other potentially harmful substances should be avoided altogether since they might contaminate your organic waste during decomposition.
Sourcing Pallets
There are various ways to source pallets for your compost bin. Check with local businesses, warehouses, or construction sites that may have discarded pallets available for free or at a low cost. You can also consider online platforms or community groups where people often give away unwanted pallets.
Remember to obtain permission before taking any pallets and always prioritize safety when handling and transporting them.
By carefully selecting the right type of pallets for your compost bin, you can ensure a sturdy structure that will effectively facilitate the decomposition process and provide nutrient-rich compost for your garden.
IV. Step-by-Step Guide to Building a Pallet Compost Bin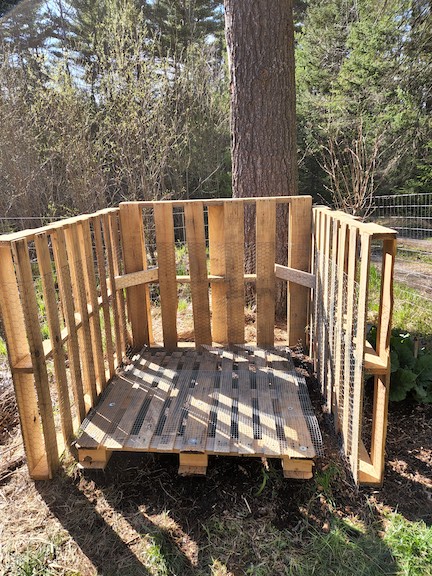 If you're looking for an affordable and eco-friendly way to compost your organic waste, building a pallet compost bin is the perfect solution. Not only does it help reduce landfill waste, but it also allows you to create nutrient-rich soil for your garden. Follow this step-by-step guide to easily construct your own pallet compost bin.
Gather the Materials
To build a pallet compost bin, you'll need the following materials:
4 wooden pallets (preferably heat-treated)
Galvanized screws or nails
A power drill or hammer
A saw (optional)
Select a Suitable Location
Choose an area in your backyard that receives ample sunlight and has good drainage. Make sure it's easily accessible for adding kitchen scraps and turning the compost.
Prepare the Pallets
Lay two of the wooden pallets on their sides to form an L-shape. Secure them together using galvanized screws or nails at each joint.
Add More Pallets for Height (Optional)
If you want a taller compost bin, attach another set of two pallets on top of the existing structure using screws or nails.
Create Easy Access Points
To make turning and harvesting easier, leave one side open without attaching any additional pallets. This will serve as an access point for adding new material and removing finished compost.
Note: Remember to secure all connections tightly with screws or nails so that the structure remains stable throughout its use.
Add Compostable Materials
Start by layering your compost bin with a mixture of brown and green materials. Browns include dry leaves, straw, or shredded newspaper, while greens consist of kitchen scraps and fresh plant trimmings. Alternate between the two to maintain the right balance of carbon and nitrogen.
Turn the Compost
Regularly turn your compost using a garden fork or shovel to aerate it and speed up decomposition. This will help break down the materials into nutrient-rich soil faster.
Maintain Moisture Levels
Keep an eye on the moisture content of your compost pile. It should be damp but not soggy. If it becomes too dry, add some water; if it's too wet, mix in dry browns like leaves or newspaper shreds.
Note: It's important to monitor the temperature as well since composting is an aerobic process that generates heat. Aim for temperatures between 120°F (49°C) and 160°F (71°C) for optimal decomposition.
Harvest Your Compost
After several weeks to months, depending on various factors such as temperature and materials used, your compost will be ready to use in your garden. The finished product should have a dark brown color and an earthy smell.
Congratulations! You've successfully built a pallet compost bin from scratch and created nutrient-rich compost for your plants!
V. Essential Tools and Materials for Building a Pallet Compost Bin
Building your own pallet compost bin is an excellent way to recycle organic waste and create nutrient-rich compost for your garden. To get started, you will need a few essential tools and materials that are easily accessible. Here are the key items you'll need:
1. Pallets
The main building blocks of your compost bin will be wooden pallets. These can often be obtained for free from local businesses or through online classifieds. Look for sturdy pallets in good condition, preferably made of untreated wood.
2. Nails or Screws
To assemble the pallets together securely, you will need nails or screws, depending on your preference and what tools you have available. Make sure they are long enough to effectively hold the pallets together but not too long to cause damage.
3. Hammer or Screwdriver
A hammer or screwdriver is essential for attaching the nails or screws to secure the pallets in place during assembly.
4. Saw (Optional)
If necessary, a saw may be required to trim any excess length from the pallets to ensure they fit together properly.
5. Wire Mesh or Hardware Cloth
To prevent compost from falling out of the gaps between the slats, it's recommended to line the inside walls with wire mesh or hardware cloth.
6. Staple Gun (Optional)
If using wire mesh as lining material, a staple gun can make attaching it easier and more efficient compared to using nails.
Remember that safety should always come first when working with tools and materials during construction projects like this one.
By gathering these essential tools and materials, you are well on your way to building a sturdy and functional pallet compost bin. Once complete, you'll be able to start composting your organic waste and turning it into a valuable resource for your garden.
VI. Tips for Maintaining and Managing Your Pallet Compost Bin
1. Regularly Turn the Compost
To ensure the proper decomposition of organic matter, it is important to regularly turn your compost in the pallet bin. This helps to aerate the pile and allows for even distribution of moisture, oxygen, and microbes. Use a pitchfork or shovel to gently mix the contents every few weeks.
2. Keep a Balance of Green and Brown Materials
The success of your composting efforts depends on maintaining a balance between green (nitrogen-rich) and brown (carbon-rich) materials in your pallet bin. Aim for a ratio of roughly 3 parts brown materials to 1 part green materials. Greens include vegetable scraps, grass clippings, and fresh plant trimmings, while browns include dry leaves, straw, and wood chips.
3. Monitor Moisture Levels
Proper moisture levels are crucial for effective composting in your pallet bin. The ideal moisture range is between 40% to 60%. To maintain this level, regularly check the moisture content by squeezing a handful of compost material; it should feel like a damp sponge but not release any water when squeezed tightly.
4. Avoid Adding Meat or Dairy Products
To prevent odors and pests from invading your compost bin, avoid adding meat or dairy products into the pile as they can attract unwanted critters like rats or flies.
5. Chop Up Large Materials
If you have larger organic waste items such as branches or large fruit peels that take longer to decompose, consider chopping them into smaller pieces before adding them to the pallet bin. This will speed up their breakdown process significantly.
6. Add Compost Activators
If your compost seems to be decomposing slowly, you can add compost activators such as finished compost or commercial products specifically designed to accelerate decomposition. These activators introduce beneficial microorganisms and enzymes into the pile, helping to speed up the breakdown of organic matter.
7. Protect Your Pallet Bin from Extreme Weather
In order to maintain optimal conditions for composting, it is important to protect your pallet bin from extreme weather conditions. Covering the bin with a tarp during heavy rainfall or providing shade during hot summer days can help regulate moisture and temperature levels.
8. Use Compost in Your Garden
Once your compost has transformed into rich, dark humus-like material, it is ready to be used in your garden. Spread a layer of compost over flower beds or mix it into potting soil for healthy plants and improved soil fertility.
Remember, maintaining and managing a pallet compost bin requires regular attention and care. By following these tips, you can maximize the efficiency of your composting process and create nutrient-rich soil amendment for all your gardening needs!
VII. Frequently Asked Questions about DIY Pallet Compost Bins
1. How do I choose the right pallets for my compost bin?
To select the ideal pallets for your compost bin, look for ones that are in good condition and made of untreated wood. Avoid using pallets that have been chemically treated or painted, as these substances can contaminate your compost. Additionally, ensure that the pallets are sturdy and not damaged.
2. Can I use any type of organic waste in my compost bin?
Yes, you can add a wide range of organic materials to your compost bin, including fruit and vegetable scraps, coffee grounds, tea leaves, eggshells, yard trimmings (such as grass clippings), and shredded newspaper or cardboard. However, avoid adding meat products or dairy items as they can attract pests.
3. How often should I turn the contents of my compost bin?
It is recommended to turn the contents of your compost bin every two to three weeks with a pitchfork or shovel. Turning helps aerate the mixture and speeds up decomposition by providing oxygen to beneficial microorganisms.
4. Can I use fresh grass clippings in my compost pile?
Fresh grass clippings can be used in moderation within your compost pile; however, it's crucial to mix them with other materials like dry leaves or shredded paper to prevent matting and odor issues.
5. What if my compost smells bad?
If your compost has an unpleasant odor such as a foul smell reminiscent of rotting eggs or ammonia-like scent signifies an imbalance in its composition—a high nitrogen content relative to carbon levels—add more carbon-rich ingredients like dry leaves or shredded paper to restore balance.
6. Can I use a pallet compost bin in a small backyard?
Absolutely! One of the advantages of using a DIY pallet compost bin is its versatility and adaptability to various spaces. Since it can be customized, you can adjust its size to fit your small backyard perfectly.
7. How long does it take for the compost to be ready?
The time required for the composting process varies depending on several factors such as temperature, moisture levels, and the materials used. In general, it takes around three to six months for organic waste to decompose into nutrient-rich compost.
8. Can I use my finished compost right away?
Once your compost has reached a dark brown color with an earthy smell and a crumbly texture, it is considered ready for use. You can incorporate this nutrient-rich material into your garden beds or containers immediately.
9. Are there any safety precautions I should follow when building my pallet compost bin?
Absolutely! Ensure that you wear appropriate protective gear like gloves and safety goggles when handling tools or working with wood. Additionally, practice proper lifting techniques if moving heavy pallets and always work in a well-ventilated area.
10. What are some common mistakes to avoid while maintaining a pallet compost bin?
Avoid adding large woody materials that take longer to decompose without proper shredding or cutting them into smaller pieces beforehand. It's also essential not to overwater or let the pile dry out excessively; maintain adequate moisture levels by periodically checking and adjusting as needed.
VIII. Conclusion
Throughout this guide, we have discussed the benefits of composting, the materials needed for a pallet compost bin, and step-by-step instructions on how to build one. Remember to choose sturdy pallets that are untreated or made from non-toxic materials.
Start Composting Today
With just a few hours of work and minimal investment, you can have your own compost bin ready to use. The key is to maintain a balance between green and brown materials while keeping it moist and aerated. Regularly turning the pile will accelerate decomposition.
Bountiful Benefits for Your Garden
The rich humus produced by your DIY pallet compost bin will provide valuable nutrients for your plants, resulting in healthier growth and increased yield. Additionally, using homemade compost reduces the need for chemical fertilizers that can harm both plants and soil ecosystems.
A Sustainable Solution
Composting is an eco-friendly practice that helps divert organic waste from landfills where it would release harmful greenhouse gases when left to decompose anaerobically. By creating your own compost at home, you contribute positively towards reducing carbon emissions and promoting sustainability.
Educate Others
Share your knowledge with friends, family members or neighbors who may be interested in starting their own DIY pallet compost bins as well. Encourage them to join in on this sustainable gardening journey so they too can experience the benefits firsthand.
Your Journey Begins Now!
Now that you have all the information and guidance you need, it's time to embark on your composting journey. Remember, composting is a continuous process, so be patient and enjoy the rewards that come with creating nutrient-rich soil for your plants.
By building a DIY pallet compost bin and embracing sustainable practices, you are not only making a positive impact on your immediate surroundings but also contributing to a greener future for generations to come.
John Bowen, an acclaimed author and garden enthusiast, hails from Kent, England, where his love for nature and gardening was nurtured. He holds a Bachelor's Degree in English Literature from the University of Oxford and a Master's Degree in Horticulture from the Royal Botanic Gardens, Kew. This unique blend of literary acumen and horticultural expertise makes his writing both informative and captivating. His work spans from fundamental gardening techniques to complex landscape designs, with a special focus on the intricate bond between man and nature. When he isn't writing or lecturing, John enjoys spending time in his own garden, illustrating the deep passion he has for his craft.